At the turn of the 20th century Denholm Dean was a beautiful woodland garden, with fine trees and a wealth of wild flowers.
It still belonged to the Laird of Cavers, then Mrs Palmer Douglas, but was open to all, with pathways wide enough to accommodate a carriage and pair.
Hawick folk would drive out to picnic or take tea at Denholmdean cottage, the ruins of which can still be seen about a mile up the Dean Burn.
It is thought that the Douglas family originally built this cottage about 1730 as a shooting lodge. They would have driven to it through their deer park and entered the Dean at Deanhead, near East Middle.
Later, towards the end of the 19th century, the Dean was made into a pleasure garden and the cottage became a tea pavilion.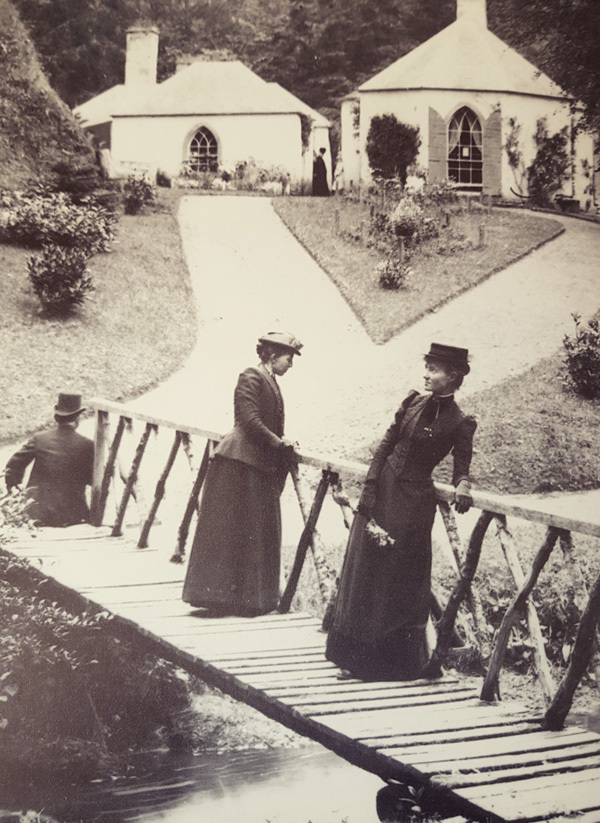 In November 1898 an article entitled 'Denholm as a holiday resort' appeared in the Border Magazine. It showed a photograph of the tea pavillion and extols the beauties of "Denholm's Fairy Dean" which inspired some of Leyden's "Scenes of Infancy".
According to the article "in this beautiful dell, in the shade of the verdant foliage, even on the warmest of day in summer, one can feel as cool as the proverbial cucumber, young and old can spend days and days in restful idling. Cosy garden benches are placed in retired nooks, and here young lovers can make love to their hearts content."
Between the two world wars the cottage in the Dean was the home of woodcutters who felled timber for a sawmill in the Dean.
The last family to have lived there were the Wylies and after they left in 1948 the cottage fell into disuse and the roof was taken off (probably to avoid tax).